Definitely, level 0 is a giveaway to get you started with the actual challenges.
Level 0 goal: The goal of this level is for you to log into the game using SSH. The host to which you need to connect is bandit.labs.overthewire.org. The username is bandit0 and the password is bandit0. Once logged in, go to the Level 1 page to find out how to beat Level 1.
Firstly, you should know how to connect to the bandit.labs.overthewire.org server via secure shell (SSH) protocol. If you are using Kali Linux, you can directly run an SSH command to connect to the server. However, if you are using Windows, there is no SSH client installed by default.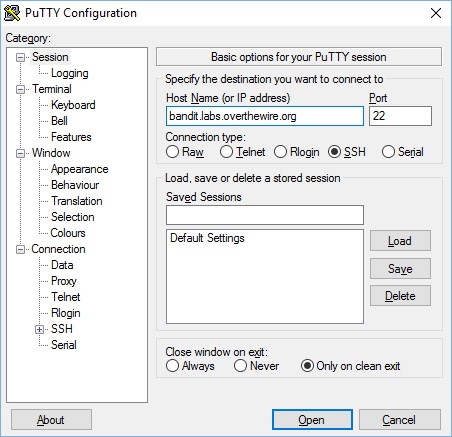 While there are many very good SSH clients in the market that were designed for Windows environment usages, personally, I would prefer PuTTY as it is easy to setup and pretty lightweight.
Once you are done, press "Open" and you should be able to gain access to the bandit0 box.